A 10-year-old boy from Reykjavik, Iceland has produced a fine piece of work. The boy on the autism spectrum has managed to build the world's largest Lego replica of the famous Titanic ship. The build time for the ship was 700 hours, which translates to about 11 months.
Officially, the Lego replica will make its debut on Monday at the Titanic Museum Attraction in Pigeon Forge, Tennessee. Brybhar Karl Bigisson, now 15, built the Titanic model when he was 10 years old. The replica features 56,000 Lego bricks and measures 26 feet long and 5 feet tall.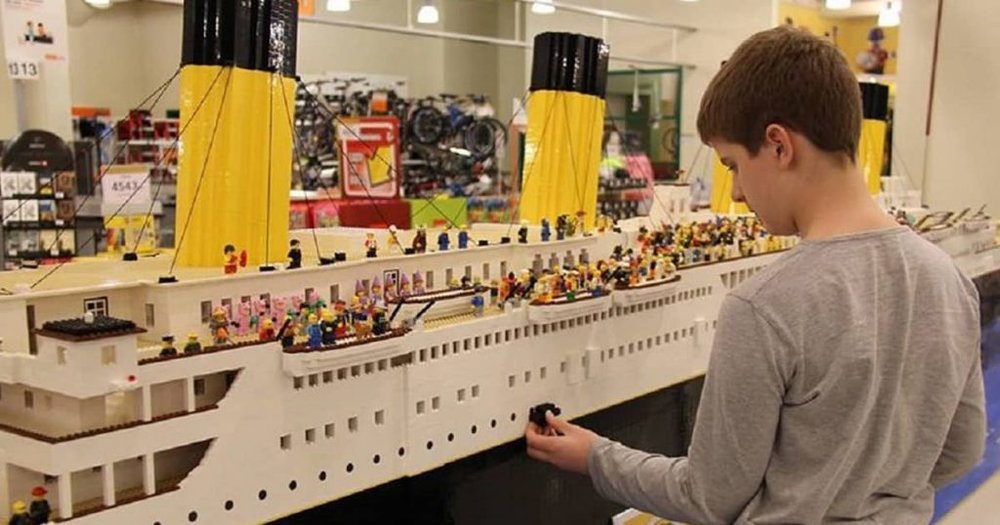 Initially, he fancied trains but that changed once his grandfather, Ludvik Ogmundsson, took him fishing aboard a boat. His appreciations for ships steadily grew in leaps and bounds since then. Given the fact that the Titanic was a momentous ship, he started studying a lot of its history.
His visits to Legoland in Denmark with his mom sparked the interest to make his own lego models right after he saw big models of famous houses, planes and ships. Age 10 is when he first contemplated making a Lego titanic model, calibrated to fit a Lego man.
Team Work
Brynjar revealed that his mother played a pivotal role in the achievement of his dream project. Without her, he believes the project would have remained just that, a dream. As for the sources of his funding, he mentions that family and friends chipped in what they could to facilitate him purchase the Lego bricks.
By building the Titanic Lego replica, Brynjar was able to embrace his autism. Initially, he had difficulties communicating, thus, he was mostly lonely and unhappy. Today, he takes pride in his accomplishment and has an aura of confidence because of it.
His condition gradually improved with the passage of time. At first, he had to have someone in school watching every move he made, today, he comfortably operates on his own unencumbered.
Listening
Brynjar's mother also expressed that she initially had reservations about how her child would grow up because of his condition. The autism spectrum was a hurdle she was unsure how she would overcome. Ludviksdottir shared that parents should always listen to the crazy ideas their children have when they are young. The reason? Because by following through with their ideas, parents can get to connect with them.
She believes that most children have difficulties following their dreams, whether they have autism or not. Hindrances like financial power and support tend to prevent children from achieving their goals. It's safe to say that she's a resolute believer in dreams.
Before making its American debut, the Lego model was shipped from Iceland in three large pieces. The Lego replica is set to be anchored at the Titanic Museum Attraction through December 2019. Given the scale of his achievements, Bynjar's grandfather believes that his grandson's achievements present an experience for people to learn.
His grandfather shared that as Brynjar was growing up, he often assisted him with his projects. Most of the time, the said projects often needed some hard work and thought. It is during their interactions together that Brynjar conceptualized building a 6-meter ship from Lego cubes. Today, he contemplates about complex projects that require a great deal of technical know-how.