Our teachers play a great part in our lives not only in educating us but also in molding us to become who we are. They instill the knowledge we need to become competitive in our chosen field and impart values to become a better person.
They give us skills so that we'll be equipped and prepared for life in the outside world as we apply for our first job and reach our dreams. If anything, our teachers are our own modern-day heroes. And this teacher just got her reward when she was invited by her student to attend her Harvard graduation after more than two decades!
The Report Card Invitation
Judith Toensing just proved that a teacher's job isn't only to teach her students, but they also inspire their students. Last School Year 1997, Mrs. Toensing wrote an inspiring message engraved on her student's report cards stating how it was a joy to have her students in her class.
She wished that they would keep up the great work, and may they never forget to invite her to their Harvard Graduation! The message she wrote may seem normal and routine for the teachers, while students would normally forget it the next day, but not with Christin Gilmer.
Gilmer, who was just 12 at that time, had kept the report card with her all throughout the years. She said how Toensing's message meant a lot to her. And that she's glad to know that aside from her mom, someone she knows and who knows her very well, believes in her dreams, as well as her ability to accomplish them. Toensing's message served as her anchor as she started her journey to public health.
A Thank You Note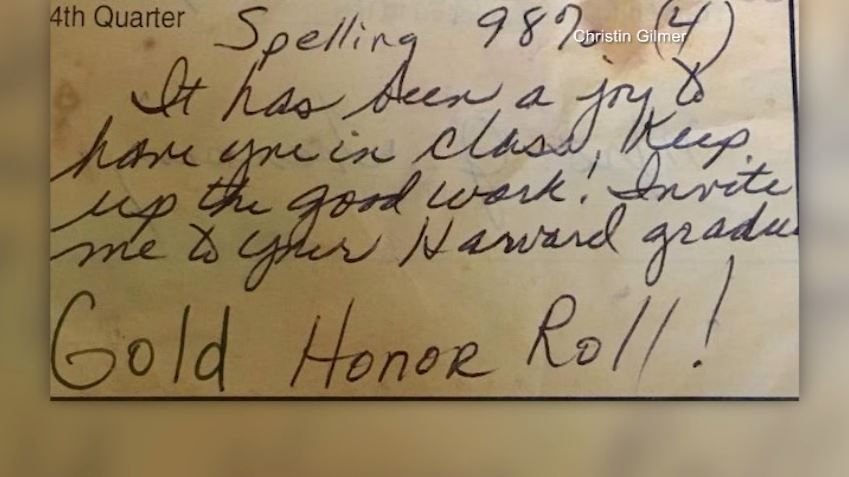 Prior to her graduation, Gilmer didn't forget to write a thank you note via her Facebook post addressed to Tensing for encouraging her to study in public health. She remembered how her teacher Toensing taught her a lot of lessons including global health, current events, as well as protecting our human rights.

The said Facebook post grabbed the attention of the school's Administration. The management decided to honor Toensing's notable contribution to public health and invite her to the 2018 Harvard T.H. Chan School of Public Health's convocation, all costs paid for.
Meanwhile, the Dean for Harvard Public Health, Michelle Williams, thanked Toensing for her "immeasurably important" work. She said that teachers didn't teach their students. They inspire them to reach fulfillment and to extend service to others. This was how a public servant should work. Meanwhile, Toensing felt shocked, flabbergasted, yet at the same time humbled and honored to receive such a prestigious invitation from Harvard. What's more, it was personally delivered by her former student!
Passing the Torch
Gilmer's success in graduating in public health care as a no surprise for her former teacher, Toensing confessed. She said she always had high expectations for all her students, so her achievements were to be expected. She also felt honored the Harvard school chose to share Christin's story, and that she had a small part of her journey. Meanwhile, Gilmer said that Toensing's unique yet inspirational teaching always encourages her students not only to learn, accomplish their dreams and goals, but also to think of innovative ways how they can help others.
Gilmer remembered how passionate her teacher was to help others. When she was still a student in her class, she remembered they wrote a 100-page paper. They interviewed the mayor back then as they envisioned how the recycling process could improve and work for the next 15 years.
Gilmer said she would love to return to her hometown in Arizona to actively contribute to the community this time. Toensing was ecstatic to hear Gilmer's plans, and she's excited to see her demonstrating her knowledge and skills to help the community thrive. She sees a great future ahead for Arizona.