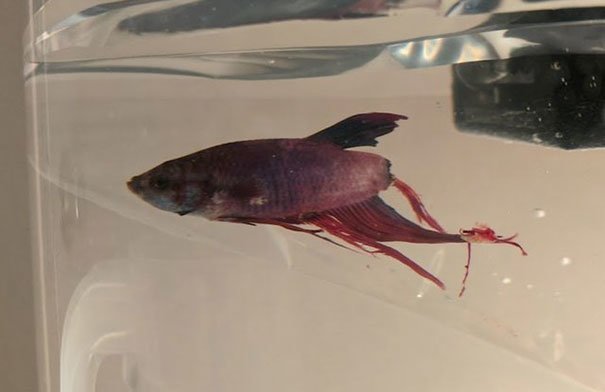 What led to the purchase of the abandoned fish
You won't believe it; a fish got neglected at the back of a Walmart store. The fish was at its dying moments when he got discovered by a pet lover.  Victoria Schild, the purchaser, and rescuer of the fish sighted it on her way to the store. She lamented the condition of the fish. The poor thing looked so malnourished and about to give up on life. The fish was already letting go its fins and tail.
According to the lovely lady, she never had it in mind to buy any pet before she came out of her home that day. She intended to conclude her plan for the day without doing so, and she would have succeeded had she not come across the path of the pet and witnessed his wrong living condition. She said once she laid eyes on him, she knew she would be doing the right thing to purchase him.
Victoria continued to express how bad she felt beholding the poor condition her new pet was left to endure. She further stated how sad she felt for the malnourished fish. She said it felt deeply wrong to allow the little guy remain there to perish slowly.When she was asked if the fish would die if left unattended for long, Victoria explained that she was pretty sure the little guy had 95% chance to die that night.
She further stated that this feeling intensified when she took him home. She felt like the little guy was counting his hours and something had to be done to keep him breathing. However, she didn't allow her sadness and worry lead her to give up on his survival.
What did she do to save him?
As a pet lover, Victoria was very driven to find a way to help the little fish. The moment she got home, she did all she that she could to ensure the fish lived to see another day. She began her search for the knowledge she needed to rescue him. Finally, after much search and results, she ended up placing her new pet in a tank filled with warm, clean water and administered medicine to him. Within a week of medication and basic care, Schild was left stunned and delighted by the remarkable changes that she witnessed.
It was a moment of joy for Victoria when the fish survived the night. Each day he grew fascinating to watch, and by one week, the changes were too "out there" to ignore. She said after the first week of progress, the little fish continued to reveal rapid improvements. His fin began to return to its normal height and health condition. Also, the tail grew back.
According to her, she was still fascinated by the reality. It took only weeks of medication and care to bring back to the malnourished fish his beauty and health.
When wrapping it up, she stated the name she gave her little guy. His name is Argo. For her, that name is the perfect one for him because of his lovely sail-like fins. Victoria Schild stated that the reason she decided to share this story of her Argo is to encourage people to check out and improve the conditions of these fishes cased in those stores, and left to die.
To witness the amazing transformation for Argo, from the beginning to the conclusion of his medication, scroll down.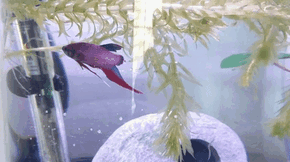 Victoria Schild found this beautiful fish dying at the back of a store that belongs to Walmart.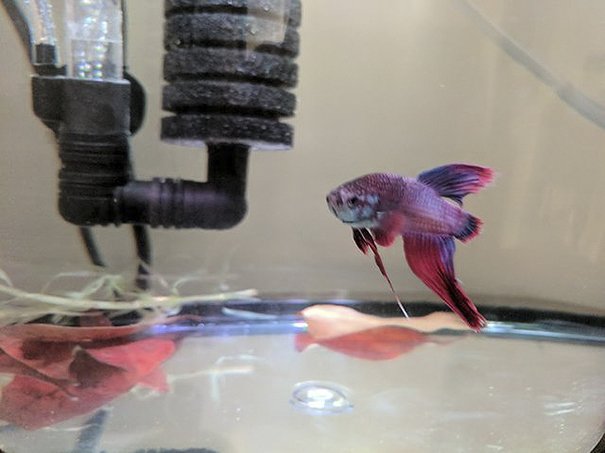 The little guy was a fighter. Despite being so close to death, the fish took what was given and improved tremendously in one week.
As she continued to observe him, by one-week time, Argo has repossessed the normal state of his fins, and his tail was gradually getting there. Victoria expressed that though she was thrilled by the little guy's beauty and improvement, what made her more joyous was his determination to survive.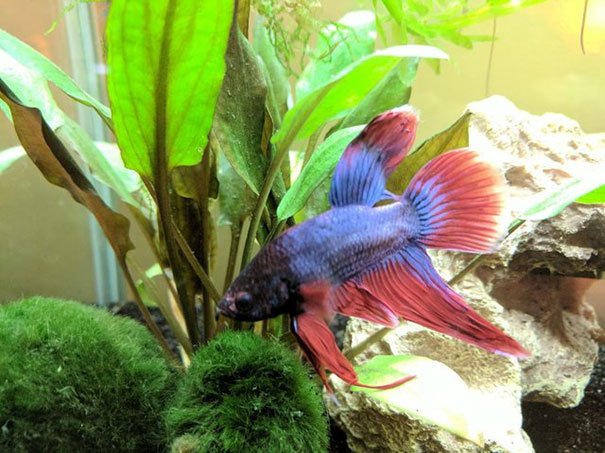 The changes witnessed are heartwarming and shocking. From a fish which was already counting his seconds, Argo has not only gotten significantly better, he got a matching name to his lovely sail-like fin.