It has been 17 years now since the very first "Tomb Raider" film was released, and at that time, it was Angelina Jolie who was portraying the role of Lara Croft. This was based on a fictional character of a video game, wherein Croft is an archaeologist who travels and get into ancient tombs all over the globe.
This year, Swedish actress Alicia Vikander was chosen to play Lara Croft. She is not new to the action film since she became a part of Guy Richie's Man From U.N.C.L.E. Vikander is also considered to be one of today's most amazing actresses especially in the films "Ex Machina," "Anna Karenina," and "The Danish Girl," where she won the Academy Award for Best Supporting Actress.
People are a bit skeptical on her reprising a role where Angelina Jolie managed to nail as well as the other two versions, but so far, it has been getting good reviews. In fact, a lot of people have been wondering how she managed to get so fit for the role.
Alicia Vikander as Lara Croft
Before the film was released, the Swedish Academy Award-winning actress said that she has indeed got a chance to play the game when she was a child. When asked how she feels about being the fourth one to portray the role, Vikander simply said that as a feminist she believes that Lara Croft is such a good role model for people, not just in the cinema but on video games.
A character full of wit and strength is something that the society needs especially nowadays. She also believes that as the newest one to play the female video game protagonist, she thinks that the character had to evolve, which is something she explored while making the film.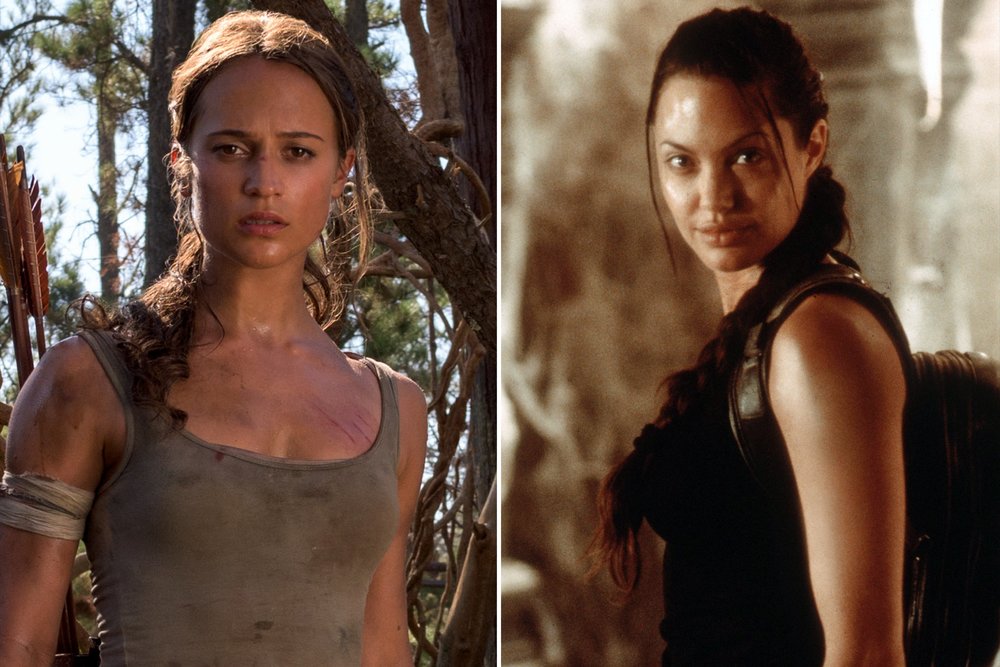 Alicia Vikander and Angelina Jolie as Lara Croft
Vikander also revealed how she did almost all of her stunts, but there are scenes wherein she needs to have some stunt doubles. She also admitted that most of them were incredibly dangerous just like being dropped on the rapids as well as being on a water which was 50 degrees where she went down more than twenty times while her hands were all tied.
Vikander said that she felt proud of herself for all of the stunts she managed to pull of herself. She described her stunts to be physically draining which was why she needed to be strong and fit before she had to film them.
Alicia Vikander behind the scenes with Tom Raider director
Tomb Raider Fitness Routine
The Swedish actress talked about the incredibly difficult stunts that she had to go through for Tomb Raider, which is why her trainer revealed that Vikander had to gain about 12 pounds of muscle.
Magnus Lygdback, who is also Wonder Woman actress Gal Gadot's trainer, said that he had to work with Vikander three months before she had to start filming Tomb Raider. He said that he used the "Magnus Method" for her, which is an interval regimen that he himself developed.
Lygdback said that in order to be fit for the role, Vikander had to work out her muscles an hour a day for every single day of the week. This work out includes weight lifting as well as some exercises to improve strength such as push-ups, squats, medicine ball slams and more. Mixed martial arts is also part of the secret since she will be doing an "action-hero-level agility."
In an interview with Popsugar, Lygdback said that because of so much traveling, he had to put Alicia on a keto diet so they could easily control her macros. Ketonic diet is a strict diet wherein a person must have an eating plan that contains just a little carb with high fat.
In Alicia's case, she had to stick to a 25-gram carb limit a day. Which is why the Swedish Academy Award-winning actress only ate fish and seafood for her protein as well as vegetables.
Magnus said that it is incredibly difficult to stick to this diet, it could be very tricky as well. However, he said that Vikander's willpower is just remarkable. He heard no complaints even if he could see her struggling. Eventually, it all obviously paid off. Tomb Raider is still in theaters worldwide.