It is that time of the year again when the snow is melting and everyone is getting ready for Spring Break, which leads to an annual event that almost everyone is waiting for, the Coachella Music Festival. This music and arts festival actually started back in 1999 and is held in Indio, California. This event is something that people from all over the world wishes to take part in.
It is always filled by celebrities who make their own fashion statements which is a mix of a spring and hobo look. It also features artists from different genres such as rock, indie, hip-hop and electronic dance music. Every single year, more than $250,000 people actually attend this two-week event. Last year, one of the most famous artists in Hollywood, Beyoncé was set to perform at the said festival, however, she had to cancel it due to her pregnancy. This time around, she is totally ready to rock the Coachella stage, keep reading to find out how she's preparing for this particular event.
Beyoncé on Coachella
On the 23rd of February 2017, an official statement was released by Parkwood Entertainment that Beyoncé would not be able to perform at the 2017 Coachella Music Festival. According to Beyoncé's team and the producer of the festival, the Grammy award-winning artist had to pull out because her doctor said so.
The statement indicated how her doctor adviced that the singer should be on a "less rigorous schedule" because of her pregnancy, hence why Beyoncé had to cancel her performance at the Coachella Valley Music & Arts Festival.
This, of course, affected the ticket sales of the event since a lot of people are hoping to see Queen Bey perform, however, the producers of the festival also mentioned that Beyoncé will be the headliner for the 2018 Coachella Festival. That would have benefited the very first time that she would perform at the said festival and would have also been the first female performer to be a headliner for Coachella in a long while.
But just like they promised, the Queen is back and is getting ready to take over the festival. It is just a couple of weeks before the event, the official lineup of performers was revealed and it is overflowing with some big names. Aside from Beyoncé, Eminem, who is actually promoting his comeback album that is currently hitting top spots on the charts, is also a headliner. The line up also includes Cardi B, The Weekend, Post Malone, Migos and more.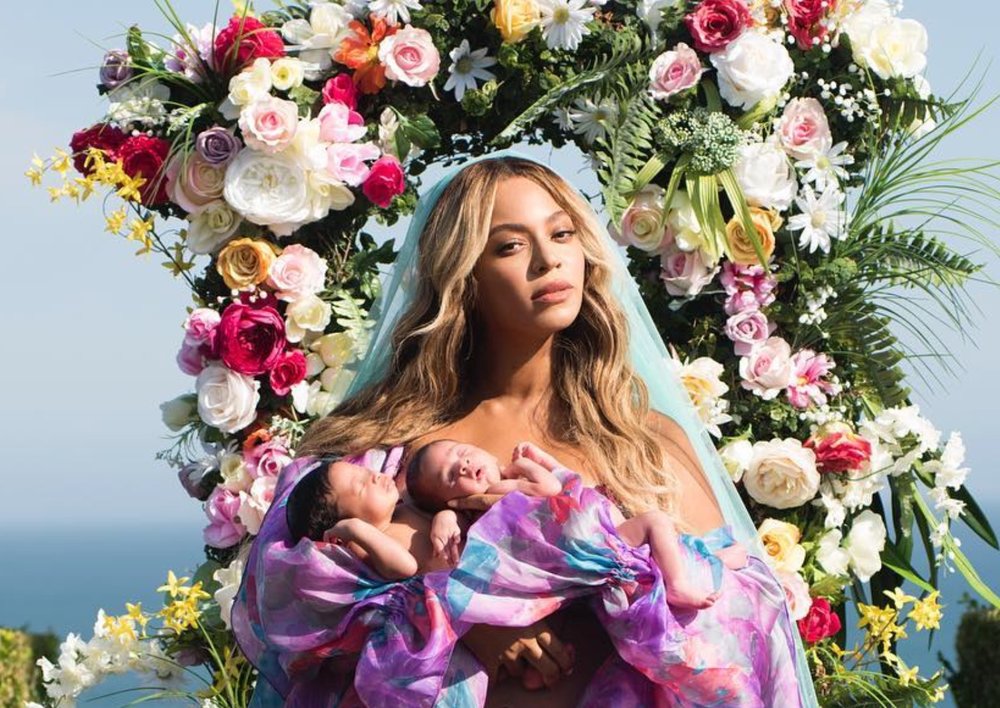 Beyoncé with her twins, Rumi and Sir Carter
There are actually rumors that Beyoncé will be doing a surprise performance number with her husband Jay-Z. This will be the singer's first onstage performance after giving birth to her twins, Rumi and Sir Carter, and people are considering it to be a major comeback.
There have been some reports that she will be joined by her husband as a warm-up for their upcoming tour. It wouldn't be surprising if he wants to support his wife by performing with her onstage. Mr.and Mrs. Carter actually announced their upcoming tour a couple of days ago wherein tickets went on sale just last Monday.
Going Vegan….But Only For 44 Days
It is understandable to prepare for a performance by doing things to make you look and feel good, but on a recent Instagram post Beyoncé, she actually announced that she will be going vegan, but not because she wants to change her lifestyle, but it is actually only for 44 days which is a part of her preparation for the Coachella Festival.
However, her fans and some experts have a mixed reaction to this. Some of her fans showed their support on social media but seem also didn't like it because she is only doing it to lose weight and not exactly doing it to change her lifestyle such as not just avoiding any food from an animal but also like wearing clothing from animals.
A registered dietitian from the American Academy of Nutrition and Dietetics, Ginger Hutlin, said that going vegan could help in losing weight but it doesn't make anyone healthier. Some vegan foods are considered as processed foods that are high in sodium and it could lead to heart-related diseases.